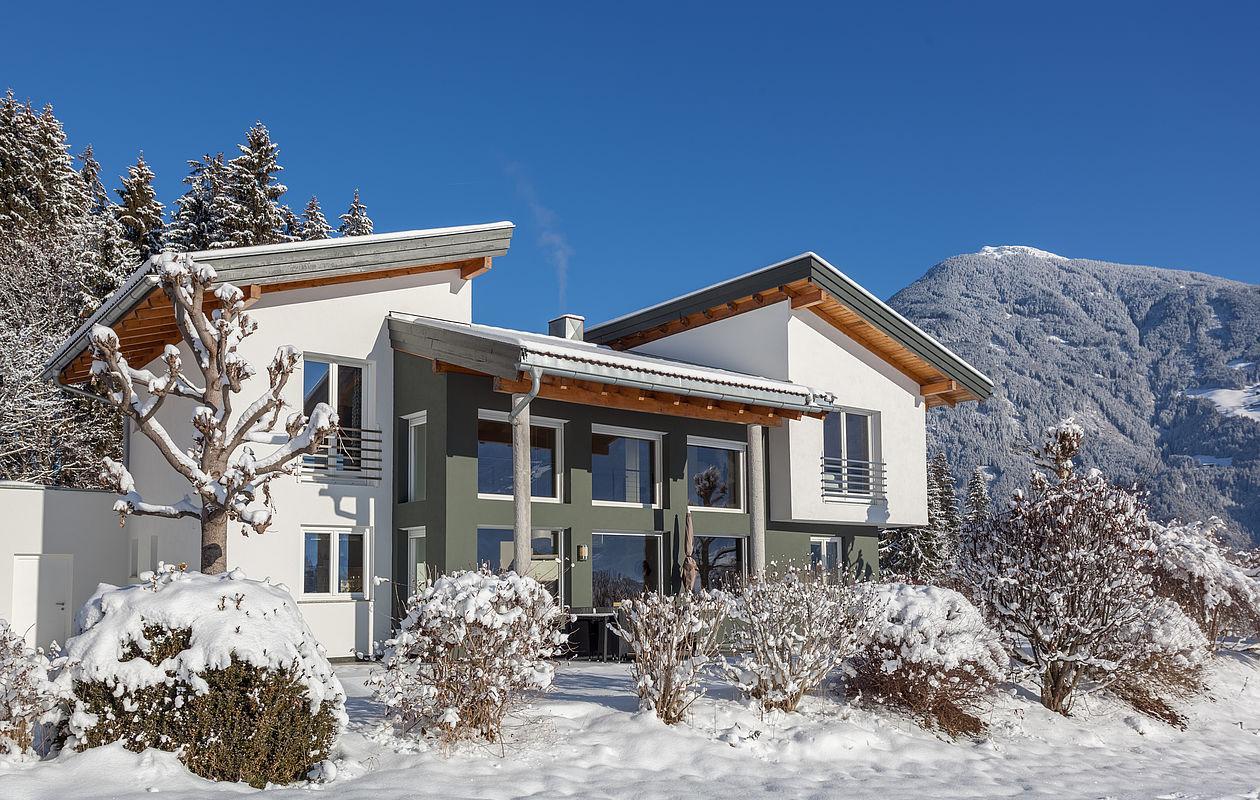 Feel relieved. Be excitet.


Chalet Isabella
Your luxury chalet in Zillertal.
Absolute silence, dreamlike panoramic view, terrace and lounge and a green area. A demanding architecture in the middle of an alpine landscape – in the Chalet Isabella, you can live with up to 14 persons on almost 200m² living space in a modern interior with a lot of light, high rooms with a visible roof truss and a gallery. Enjoy a holiday in the alps in an unique surrounding in one of the prettiest and luxurious furnished holiday homes with a gorgeous view over the valley floor and the mountain world of the Zillervalley.
Experience special moments in the Alpine Luxury Chalet Isabella.
Our generous living space with the exclusive dining area has over 80m². Enjoy a gorgeous view of the valley through our panoramic windows and our living gallery. The tiled stove in a modern design and the fireplace are providing for a cosy and alpine feeling. The dining table in oak wood with designer furniture has got space for the whole family. Also the most up-to-date technology is available with the panoramic Flat TV the satellite system, the surround system and the free high speed WiFi.
Follow us on a 360° panoramic tour through our Luxury Chalet Isabella. The panoramic tour will open with a "click" on to the picture.
live luxurious – enjoy highest living comfort on almost 200m² with dreamlike light flooded, high rooms. Perfect for sun worshippers and all lovers of the alpine landscape and mountainworld
delicious cooking – guaranteed in a fully equipped kitchen with a Nespresso coffee machine, oven, microwave, refrigerator, extractor as well as a small counter as bar and an own store room for groceries and beverages.
perfect equipment - with 4 exclusive bedrooms with high quality box spring beds as well as Flat TV, furthermore a cosy "Juchee" for the Kids
bathrooms from a star designer - bathroom from Philippe Stark with a shower or rather bath tub are providing of highest comfort in the Chalet Isabella. Free high speed internet (WiFi) is of course guaranteed.
in the heart of the Zillertaler mountains - The Chalet Isabella is located on an ideal starting point for numerous hiking or excursion trips. It is directly located next to the Zillertaler Höhenstraße, so you can explore the mountain world of the Zillervalley from a bird's eye view.
for all sport interested guests - The Zillervalley offers with lots of bike and hiking tours an optimal sports programme. Enjoy common hiking tours in a breathtaking mountain world with host Stephan as an examined mountain guide.
family holiday - even families won't miss out in our Chalet. On request, we also have have cots and other baby equipment for you. Furthermore, our generous garden and farm are the perfect places for kids and for playing.